RoCoil TCA-5™ Flexible Current Transformers with a 5A Output
PC&S offers solutions -- not just products --
PC&S strives to offer our customers and partners the best value.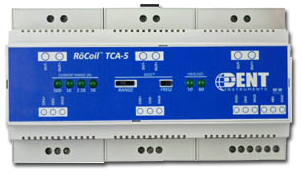 Since pioneering the use of flexible RoCoil CTs in energy measurement, we have been asked to provide a flexible coil with a 5 amp output. We are pleased to announce that the RoCoil TCA-5 now fulfills this requirement in the marketplace. Those who use 5 amp current input power meters will now be able to take advantage of the easy installation and broad current range coverage offered by RoCoil flex probe CTs.

The RoCoil TCA-5 is a three-channel integrating transconductance amplifier (TCA) that converts the 131mV/1000A electrical output signal from the RoCoil current sensor to a 5 amp AC current, emulating a traditional current sensing transformer.
The RoCoil TCA-5 is factory-calibrated to work with DENT RoCoil CTs (131mV/1000A). The unit can be DIN or panel mounted and a 10" section of TS35/7 DIN rail is included with the kit.
View PDF Datasheet below. Some browsers do not support this function, or you may need to Download Here.
Powerful and Versatile Loggers to Measure Power Consumption
Allocate energy costs to a diverse mix of products in manufacturing companies. Sub-meter building facilities that are leased to other commands on military bases. Perform short-term load profiles to determine if and when new electric service is needed in schools and hospitals. Meter large energy consumers who may be at risk for assessment of peak-power penalties or power factor charges. Monitor lighting trends in institutional, commercial and educational facilities. Verify and manage energy consumption.
PC&S offers complete monitoring kits for determining capacity requirements of stand-by generators, too, to keep you in accordance with the new NEC 702.5 regulations for sizing generators in new installations.
The complete line of Power Loggers from PC&S puts you on the road to savings with your power and energy bills!
Power Measurement and Control Specialists