600V Class Potential Transformer
For low burden applications
such as Auxiliary Powered
Relays, Energy Monitoring
and Control, and other
Electronic Loads.

This family of potential transformers is designed specifically for low burden metering applications. It represents a smaller, lighter and more cost effective alternative to traditional potential transformers. With exception of the accuracy rating, it conforms to the provisions of EEEC57.13 - 1993.

Available options include 69.3V secondary, 50 -60 HZ accuracy ratings, IEC44 - 2 compliance, designs with fuses holders, primary voltages not listed, and with lead wire termination. Consult factory for model numbers and full specifications.


Parameter
Units
Model Number
LV00020
LV00018
LV00021
LV00019
LV00026
Primary Voltage
600
480
277
240
120
Volt
Secondary Voltage
120
Volt
Recommended HV
Fuse Size
1/8
1/8
1/4
1/4
1/2
A
Recommended LV
Fuse Size
1/2
1/2
1/2
1/2
1/2
A
Insulation Rating
5.0KV BIL 60KV
Insulation Rating
0.6KV BIL 10KV
Insulation Thermal Class
105
°C
Thermal Rating Factor
50 at 30°C, 60HZ
VA
Rated Voltage Factor
1.2 Continuous at 30°C
Accuracy Rating
+/- .3% at burden of 1.0 to 5.0VA, 60HZ,
and when HV range=90% to 110% of nominal
%
Transformer Weight
Approximately 4
lbs.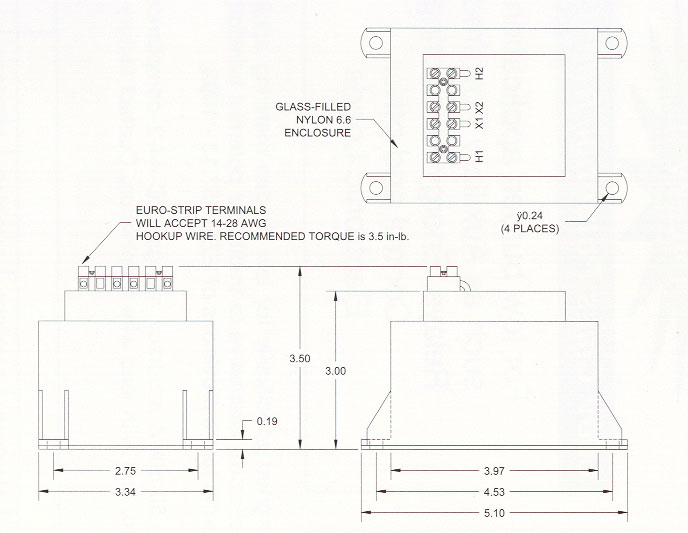 Specifications
PC&S believes in continuous product development and reserves the right to modify and alter the specifications without notice.
Warranty
PC&S, at its sole discretion, agrees to repair, or replace, or refund the purchase price of the products contained herein that are found to be defective in material or workmanship, or do not conform to specifications, if written notice is received by PC&S within 1 year from date of shipment. PC&S assumes no liability, expressed or implied beyond the obligation to repair, replace, or refund the purchase price of the defective material.